How thick do MMA mats need to be?
Although MMA mats are often overlooked, you should consider MMA mats the first form of personal protective equipment under the feet of your athletes. It's important to purchase mats that are the right thickness for the combat sports discipline that you teach, as certain sports will require more padding to protect against falls, trips, and slips. You want to make sure that you have the utmost level of protection to cushion falls and prevent injury. In this article, we will discuss the anatomy of a MMA mat, discuss how thick they need to be, and provide tips and tricks to outfit your gym.
How thick do MMA mats need to be?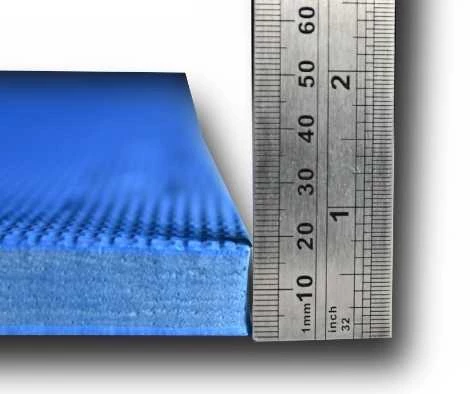 When purchasing martial arts mats, thicker doesn't always mean better, and you should purchase mats based on the martial arts discipline you teach at your gym. As you are looking through mats with different thicknesses, you should assess the price, the surface texture, and the use that you'll be using it for. This is especially true when purchasing mats for sports and involve throws from critical heights of over 1.5 m.
Let's examine the thickness of the mat you'll need for different combat sports disciplines:
Striking arts mats
20 mm mats
taekwondo, boxing, and karate mats
For sports that focus mostly on stand up striking, thinner 20mm mats work perfectly, as they provide extra grip and hardness for athletes to make lightning quick movements when performing stand up techniques. Sometimes, when athletes are training on thicker, softer mats, their bare feet can be absorbed into the mat, which limits mobility. Thinner mats provide protection against light and low falls from slips and trips, but will not cushion falls from critical heights over 1.5 m.
Below, you will find some of the best 20 mm puzzle mats available:
Grappling Mats
30mm martial arts mat
Grappling sports and Jiu jitsu mats
30mm mats are great for sports that feature both stand up striking martial arts and those that feature an emphasis on ground game, and offer the best of both worlds as a cross between 20 mm and 40 mm mats. These mats offer protection for falls, while also offering a superior firmness to thicker mats allowing for ease-of-use when performing stand up techniques. These mats may be the perfect mat for your home gym, as they provide extra padding when sparring with a partner.
Here are some of the best 30mm puzzle mats available on the market:
Groundwork mats
40 mm martial arts mat
MMA, Brazilian jujitsu, and judo mats
One of the thickest mat available, 40 mm mats provide optimal protection from falls from critical heights, whilst also ensuring maximum shock absorption. According to the International Brazilian Jujitsu Federation, mats used within competitions need to be at least 40 mm thick.
Below, you'll find the best mats in the 40mm range available for your training space:
Types of martial arts floor mats
One of the easiest mats to set up are jigsaw puzzle mats, as they simply lock into one another with jigsaw connector pieces. Puzzle mats are great to use when outfitting a BJJ training Centre.
In addition to jigsaw puzzle mats, there are two other types of mats that you should take into consideration:
Roll out mats: Just like the name describes, roll out mats are stored in tightly rolled cylinders, making them easy to deploy and put away. These mats are great to use as wrestling mats or judo style training. Rollout mats are usually connected with Velcro connectors strips, but you can also use mat tape.
Judo mats: These mats offer superior comfort and cushioning ability. Judo mats are made from a durable polymer polyurethane foam which is wrapped in a high quality vinyl outer layer. All judo mats feature a tatami mats grip, which allows athletes to better gain their footing.
Wall mats: Another form of protection in a martial arts training centre is wall padding. Wall mats are 40 mm thick with a 10mm backing, and help to prevent injury by covering walls with soft foam mats. They feature high density foam covered in a durable vinyl outer coating, and heat sealed edges to prevent tears. They also come in a wide variety of colours, allowing you to outfit your gym from wall to ceiling in your brands distinct colour.
What is an MMA mat made of?
At martial arts mats Ireland, we have foam mats which are made from different materials. XPE and EVA are the most common martial arts mats, and you can learn a little more about them below:
XPE foam mats
XPE foam is a durable, long-lasting foam which provides excellent cushioning ability. It is a cross-linked polyethylene foam which is created to cushion falls, and even has insulating properties that protect against high heat.
XPE foam has a soft outer shell which is resistant to moisture and makes it ideal for martial arts training centres, as it does not absorb moisture and is incredibly easy to clean.
XPE foam also doesn't have the same unappealing smell as EVA foam. The reason for this is that XPE is made from different materials, and doesn't off gas that same unappealing sulfer-like smell that EVA does.
EVA foam mats
Another type of material that martial arts mats are made from is EVA foam. This polymer is composed of ethyl and vinyl acetate and is ideal for high-impact workouts and sports. EVA foam is a closed cell foam, and this means that the internal pockets of gas which aid in cushioning are closed inside. The soft foam provides excellent cushioning, making it a comfortable place to perform martial arts exercises.
EVA foam mats are relatively inexpensive to purchase, and this makes them one of the most widely used foam mats available on the market. You may be interested in purchasing these mats as home mats, either in your home gym, garage, or workshop, as they boast antifatigue properties, allowing you to stand on a hard floor for longer periods of time.
Polyurethane Foam (PU)
Unlike closed cell foams, like EVA and XPE, PU foam is an open cell foam, meaning that there are thousands of tiny pockets of air within the mat, and this allows the mat to breathe. What makes you foam ideal for cushioning falls is that the mat has thousands of tiny pockets of air inside of it, so when an athlete falls on a PU foam mat, they're landing on the pockets of air.
One of the best mats with PU foam available at Martial Arts mats Ireland is the Judo mat. Wrapped in a durable vinyl surface, judo mats offer superior cushioning ability and outstanding performance in competitive settings.
Other things to consider when purchasing martial arts mats
There are a few other things to take in a mine before purchasing martial arts mats for your training centre. Besides mat thickness, some of the most important considerations include surface texture, storage space, and foam density. Let's examine those three considerations below:
Surface texture
There are many surface textures available for martial arts mats, and just like thickness, finding the right martial arts mats depends on the martial arts disciplines you practise. One of the most common surface textures is the tatami surface, which offers slip protection based on an interlocking weave pattern which mimics traditional Japanese flooring.
In addition, there are other types of surface textures, including a five-line pattern, which is great to use for combat sports that focus on stand up techniques. There may be a slight drawback to using these mats if you mainly focus on grappling and ground games, as these mats can cause skin irritation because of friction.
Storage space and mobility
Another important consideration is whether you will need to move your floor mats regularly. For example, if you rent a space which is used for other activities, you'll need to have mats that are easy to set up and tear down. You'll also need to consider storage space, wether you're going to store the mat within the facility or if you're going to have to cart the mats home regularly. Rollout mats are brilliant to use if you're looking for a mobile mat which can be set up and torn down easily. All you need is one other person to help you roll the mat up into a tightly packed cylinder, and you can even use a handcart to move them about.
Foam density
Foam density is an important consideration to take into mind, as some mats offer greater foam density than others. Foam density is checked through a shore C device which measures the amount of impact a mat can take before reaching 'zero', the point at which an object hits the floor. Mats with greater foam density tend to hold up better in situations under heavier pressures, as there is more material packed into every centimetre of mat space. We offer ultrahigh density EVA foam tiles, which have a foam density of 330 kg/cbm, and these mats are great to use as outdoor walkway flooring or in dog runs and barns.
It's important to keep in mind that thickness and density are two different concepts. Some mats will have a greater thickness, but also a lower density. Always check the kg/cbm (kilograms per cubic metre), before purchasing mats, as mats with higher densities tend to stand up more under the rigours of regular use.
Conclusion
The type of mat that you purchase completely depends on the combat sports discipline you practise in your martial arts training centre. As you consider what mats you'll need, consider the different types of mats available—rollout mats, jigsaw puzzle mats, and judo mats—and you should be able to find a mat that fits your needs. Also, as you research different mats, look to find mats that have a surface texture that meets your needs.
If you ever need help with finding the right mats home gym, just message us with the handy chat button found in the bottom right corner of your screen. Someone will be happy to help you discover the best mat at the best price for your needs.
Author: David Van Kooten